Holiday CraftMorristown - December 11, 12, 13, 2015
Holiday CraftMorristown is celebrating its 25th anniversary at the Morristown National Guard Armory. Shoppers flock to this final show of the year to discover the most distinctive one-of-a-kind holiday gifts. Savvy shoppers have the chance to wow their loved ones with gifts they will never forget. In addition are various demonstrations and a gourmet specialty food boutique.
Schedule
Friday, December 11 from 4 pm to 8 pm
Saturday, December 12 from 10 am to 6 pm
Sunday, December 13 from 11 am to 5 pm
Admission Fees

cash or check only
Admission is $9
Seniors (62 and up) $8
Children are free
Address
430 Western Avenue
Morristown, NJ 07960
Free Parking/

No Pets
Make Your Own Shibumi Scarf
Patrica Disantis will be offering visitors the opportunity to create their very own hand-painted silk scarf!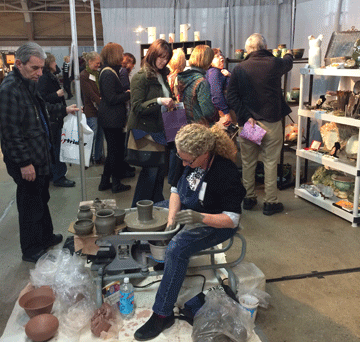 Potters' Guild of New Jersey Demo
Several artists from the Potters' Guild of New Jersey will be displaying their work and demonstrating how it's made!
Custom Turned Wooden Pen Demo
Don Hart will be demoing his wood turning abilities and making pens all weekend long.
Alphabetical List of Exhibitors
A
Debra Abrams - Jewelry
Michael Alexander - Jewelry
Jodie Aragona - Jewelry
Angelia Armstrong - Wearable Fiber
B
Jerilynn Babroff - Clay
Sara Baker - Clay
Susana Barbetti - Norton - Clay
Connie Bates - Leather
Bella's Home-Baked Goods - Gourmet Food
Camille Benjamin - Wearable Fiber
Devaney Bennett - Jewelry
Jerry Bennett - Clay
Berkshire Sweet Gold Maple & Marine - Gourmet Food
Michele Berman - Jewelry
Bittersweet Herb Farm - Gourmet Food
Lauren Blais - Jewelry
Ricky Boscarino - Jewelry/Painting, Drawing, Printmaking
Ann Brauer - Non-Wearable Fiber
Marcel A. Breault - Jewelry
Marguerite Brennan - Clay
Megan Brogden - Wearable Fiber
Merrie Buchsbaum - Mixed Media
Valerie Bunnell - Mixed Media
C
Lucinda Calahan - Jewelry
Karen Caldwell - Glass
Susan Carey - Jewelry
Justin Cavagnaro - Glass
Winnie Chai - Jewelry
Galina Chehirian - Glass
Michelle Champitto - Glass
Michael Chatterley - Clay
Adel Chefridi - Jewelry
Dwo Wen Chen - Clay
Emilie Cohen - Jewelry
D
Dana & David - Jewelry
Beth DiCara - Clay
Patricia Disantis - Wearable Fiber
Charles Donofrio - Leather
Rusty Dorr - Leather
Dutch Desserts - Gourmet Food
E
Jenn Ecker - Wearable Fiber
F
Richard Feier - Wood
Amalia Flaisher - Glass
Jenn Forster - Metal
Cyndi Freeman - Photography
Ken Freeman - Wood
Raul Frisneda - Jewelry
G
Linda Garrabrandt - Clay
Paula Gaynor - Leather
Anakarina Gende - Mixed Media
Hollie Graze - Mixed Media
Kara Greenblott - Wearable Fiber
Hilary Greif - Jewelry
Cate Gundlah - Glass
H
Julie Hammet-Cone - Jewelry
Peter Handler - Furniture
Don Hart - Wood
Lee Hazelgrove - Clay
Carol Heisler - Non-Wearable Fiber
Michael Heon - Wood
R. Nemo Hill - Wearable Fiber
David Hohmann - Photography
David Hohmann - Wood
Robert Alan Hyde - Metal
I
Joyce Inderbitzin - Clay
J
Leslie Jacobsen - Clay
Bonnie Jaffe - Clay
Kathy Jeffers - Clay
Nancy Jemio - Wearable Fiber
K
Basia Kaminski - Wearable Fiber
Selinda Kennedy - Clay
Ahrong Kim - Clay
Ron King - Wearable Fiber/Non-Wearable Fiber
Janice Kissinger - Wearable Fiber
Oliver Kita Chocolates - Gourmet Food
Diana Koziupa - Mixed Media
L
Gigi Laberge - Glass
Thomas Laraia - Jewelry
Stephen LeBlanc - Jewelry
David Leidy - Mixed Media
Margaret Lent - Wearable Fiber
Jan Lichtenstein - Wearable Fiber
Wendy Lin - Jewelry
Kathy Litchfield - Wearable Fiber
Smadar Livne - Painting, Drawing, Printmaking
Antonio Loria - Furniture
Iona Loyola - Wearable Fiber
Susan Lowenthal - Glass
M
Christine Mackellar - Jewelry
Andre Maiwald - Wood
Vilma Mare - Wearable Fiber
Scott Matyjaszek - Photography
Donna McGee - Clay
Justin Mckenney - Clay
Robin McLaughlin - Jewelry
Andres Medina - Leather
Jeanne Melillo - Non-Wearable Fiber
Merriweather's - Soaps & Lotions
Danielle Merzatta - Jewelry
Jolanta Michalska - Wearable Fiber
Mary-Lynne Moffatt - Mixed Media
Alexandra Molner - Leather
Seymour Mondshein - Leather
Dena Moses - Wearable Fiber
Mostly Myrtle's/ Nanny's Cookies - Gourmet Food
Jeannette Mullarkey - Jewelry
Mireille Munnelly - Mixed Media
Rebecca Myers - Jewelry
N
Jeffrey Nelson - Wood
Terry Nelson - Clay
Kathryn Nidy - Mixed Media
Rebecca Noble-Morales - Wearable Fiber
Lauren Nogrady - Jewelry
O
Laurie Olefson - Mixed Media
Lora Oracheva - Wearable Fiber
Kate O'Rourke - Wearable Fiber
P
Marie Pace - Wearable Fiber
Gina Pannorfi - Wearable Fiber
Jennifer Park - Jewelry
Chris Parris - Clay
Lauren Passenti - Jewelry
Bruce Perlmutter - Wood
Eugene Perry - Metal
Ronnee Peters - Glass
Maryanne Petrus-Gilbert - Wearable Fiber
Jake Pfeifer - Glass
Potters' Guild of New Jersey - Clay
Daniel Pratt - Glass
R
Lewis Rafel - Leather
Richard Robinson - Wood
Gregory Roche - Leather
Sharon Rosenthal - Jewelry
Sally Rothchild - Clay
Agustin Ruiz - Wearable Fiber
Alisa Ryan - Non-Wearable Fiber
S
Sue Sachs - Jewelry
Frank Saliani - Clay
Robin Schkrutz - Clay
Suzanne Schwartz - Jewelry
Linda Senechal - Wearable Fiber
Cara Shaw - Leather
Angela Shope - Clay
Jonathan Simons - Wood
Bill Snyder - Photography
Josh Solomon - Glass
Jim Somers - Photography
Heather Stief - Jewelry
Lisa Strauss - Leather
Sumptuous Syrups of Vermont - Gourmet Food
Surprenant's Berry Farm - Gourmet Food
Peter Syak - Clay
T
James Takaki - Metal
The Nut Lady, LLC - Gourmet Food
Mary Thomson - Jewelry
Toshiki & Maryszka - Leather
Heather Tourville - Clay
Leanne Tremblay - Non-Wearable Fiber
Mia Tyson - Wearable Fiber
U
Anna Upston - Non-Wearable Fiber
V
Ashley Vick - Jewelry
W
Rochelle Weber - Painting, Drawing, Printmaking
Susan Wechsler - Clay
Steve White - Glass
Bill Wickey - Clay
Adrienne Wiegmann - Jewelry
Natalie Wilkinson - Wearable Fiber
Agnieszka Winograd - Jewelry
Michael Wolski - Painting, Drawing, Printmaking
E. Douglas Wunder - Jewelry
Y
Verne Jidong Yan - Non-Wearable Fiber
Tricia Young - Jewelry
Z
Erica Zap - Jewelry
Simon Zeng - Painting, Drawing, Printmaking
Exhibitor List by Category
CLAY
Jerilynn Babroff
Sara Baker
Susan Barbetti-Norton
Jerry Bennett
Marguerite Brennan
Michael Chatterley
Dwo Wen Chen
Peggy Davo
Beth DiCara
Linda Garrabrandt
Lee Hazelgrove
Joyce Inderbitzin
Leslie Jacobsen
Bonnie Jaffe
Kathy Jeffers
Selinda Kennedy
Ahrong Kim
Donna McGee
Justin Mckenney
Terry Nelson
Chris Parris
Sally Rothchild
Frank Saliani
Robin Schkrutz
Angela Shope
Peter Syak
Heather Tourville
Susan Wechsler
Bill Wickey
FURNITURE
Peter Handler
Antonio Loria
GLASS
Karen Caldwell
Justin Cavagnaro
Michelle Champitto
Galina Chehirian
Amalia Flaisher
Cate Gundlah
Gigi Laberge
Susan Lowenthal
Ronnee Peters
Jake Pfeifer
Daniel Pratt
Josh Solomon
Steve White
JEWELRY
Debra Abrams
Michael Alexander
Jodie Aragona
Devaney Bennett
Michele Berman
Lauren Blais
Ricky Boscarino
Marcel A. Breault
Lucinda Calahan
Susan Carey
Winnie Chai
Adel Chefridi
Emilie Cohen
Dana & David
Raul Frisneda
Hilary Greif
Julie Hammet-Cone
Thomas Laraia
Stephen LeBlanc
Wendy Lin
Christine Mackellar
Robin McLaughlin
Danielle Merzatta
Jeannette Mullarkey
Rebecca Myers
Lauren Nogrady
Jennifer Park
Lauren Passenti
Sharon Rosenthal
Sue Sachs
Suzanne Schwartz
Heather Stief
Mary Thomson
Ashley Vick
Adrienne Wiegmann
Agnieszka Winograd
E. Douglas Wunder
Tricia Young
Erica Zap
LEATHER
Connie Bates
Charles Donofrio
Rusty Dorr
Paula Gaynor
Andres Medina
Alexandra Molner
Seymour Mondshein
Lewis Rafel
Gregory Roche
Cara Shaw
Lisa Strauss
Toshiki & Maryszka
METAL
Jenn Forster
Robert Alan Hyde
Eugene Perry
James Takaki
MIXED MEDIA
Merrie Buchsbaum
Valerie Bunnell
Anakarina Gende
Hollie Graze
Diana Koziupa
David Leidy
Mary-Lynne Moffatt
Mireille Munnelly
Kathryn Nidy
Laurie Olefson
NON-WEARABLE FIBER
Ann Brauer
Carol Heisler
Jeanne Melillo
Alisa Ryan
Leanne Tremblay
Anna Upston
Verne Jidong Yan
PAINTING, DRAWING, PRINTMAKING
Ricky Boscarino
Smadar Livne
Rochelle Weber
Michael Wolski
Simon Zeng
PHOTOGRAPHY
Cyndi Freeman
David Hohmann
Scott Matyjaszek
Bill Snyder
Jim Somers
WEARABLE FIBER
Angelia Armstrong
Camille Benjamin
Megan Brogden
Patricia Disantis
Jenn Ecker
Kara Greenblott
R. Nemo Hill
Nancy Jemio
Basia Kaminski
Ron King
Janice Kissinger
Margaret Lent
Jan Lichtenstein
Kathy Litchfield
Iona Loyola
Vilma Mare
Jolanta Michalska
Dena Moses
Rebecca Noble-Morales
Lora Oracheva
Kate O'Rourke
Marie Pace
Gina Pannorfi
Maryanne Petrus-Gilbert
Agustin Ruiz
Linda Senechal
Mia Tyson
Natalie Wilkinson
WOOD
Richard Feier
Ken Freeman
Don Hart
Michael Heon
David Hohmann
Andre Maiwald
Jeffrey Nelson
Bruce Perlmutter
Richard Robinson
Jonathan Simons
GOURMET SPECIALTIES
Bella's Home-Baked Goods
Berkshire Sweet Gold Maple & Marine
Bittersweet Herb Farm
Dutch Desserts
Merriweather's
Mostly Myrtle's/ Nanny's Cookies
Oliver Kita Chocolates
Sumptuous Syrups of Vermont
Surprenant's Berry Farm
The Nut Lady, LLC