Spring CraftMorristown - March 13, 14, 15, 2015
Spring CraftMorristown is celebrating its 25th anniversary at the Morristown Armory as New Jersey's most unique art and shopping experience. This semiannual show brings winter-weary design lovers an opportunity to get "first dibs" on the year's newest creations from 150 top American makers.
Saturday Note: St. Patrick's Day Parade. Please follow detours or use Exit 33 on I287.
Schedule
Friday, March 13 from 4 pm to 8 pm
Saturday, March 14 from 10 am to 6 pm
Sunday, March 15 from 11 am to 5 pm
Admission Fees

cash or check only
Admission is $9
Seniors (62 and up) $8
Children are free
Address
430 Western Avenue
Morristown, NJ 07960
Free Parking/

No Pets
Make Your Own Shibumi Scarf
Patrica Disantis will be offering visitors the opportunity to get hands on and create their very own hand-painted silk scarf!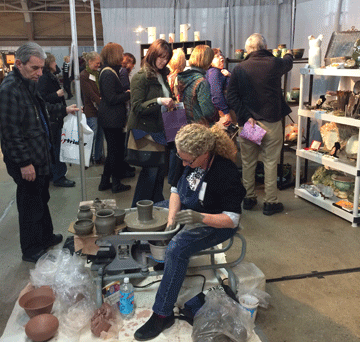 Potters' Guild of New Jersey Demo
Several artists from the Potters' Guild of New Jersey will be joining Spring CraftMorristown this year to display their work and demonstrate how it's made!
Custom Turned Wooden Pen Demo
Don Hart will be demoing his wood turning abilities and making pens all weekend long.
A
Elie Abdelahad - Leather
Liza Abelson - Glass
Debra Abrams - Jewelry
Nicolette Absil - Jewelry
Christabal Aidala - Clay
Michael Alexander - Jewelry
Mary Angus - Glass
Ayenne Applebaum - Clay
Jodie L Aragona - Jewelry
B
Susanna Barbetti-Norton - Clay
Connie Bates - Leather
Bella's Home-Baked Goods - Specialty Food
Devaney Bennett - Jewelry
Michele Berman - Jewelry
Chelsea Bird - Jewelry
Bittersweet Herb Farm – Specialty Food
Lauren Blais - Jewelry
Marcel A. Breault - Jewelry
Marguerite Brennan - Clay
Valerie Bunnell - Mixed Media
C
Lucinda Calahan - Jewelry
Karen Caldwell - Glass
Susan Carey - Jewelry
Christen Casselli - Mixed Media
Justin Cavagnaro - Glass
Winnie Chai - Jewelry
Michelle Champitto - Glass
Larry Chapman - Photography
Renee Chase - Clay
Michael Chatterley - Clay
Adel Chefridi - Jewelry
Bill Chisholm - Painting, Drawing, Printmaking
Michael Cho - Clay
Michael Cianci - Wearable Fiber
Emilie Cohen - Jewelry
Gerry Conti - Mixed Media
Judith Cook - Jewelry
Maura Cronin - Wearable Fiber
D
Kathryn Davis - Clay
Peggy Davo - Clay
Marielle De Leeuw - Wearable Fiber
Beth Dicara - Clay
Patricia Disantis - Wearable Fiber
Linda Doucette - Non-Wearable Fiber
John Duryea - Wood
Dutch Desserts– Specialty Food
E
Joan Ecker - Wearable Fiber
Elissa Ehlin - Metal/Jewelry
Elizabeth England - Photography
F
Richard Feier - Wood
Bill Finks - Mixed Media
David Frank - Photography
Raul Frisneda - Jewelry
G
George Gabriel - Metal
Linda Garrabrandt - Clay
Paula Gaynor - Leather
Barbara Gerson - Clay
Daniel Gomes - Wood
Hollie Graze - Mixed Media
Hilary Greif - Jewelry
Karla Gudeon - Painting, Drawing, Printmaking
H
Julie Hammet-Cone - Jewelry
Lijah Hanley - Photography
Don Hart - Wood
Mimi Hay - Wearable Fiber
Jan Hibbard - Leather
Peyton Higgison - Painting, Drawing, Printmaking
R. Nemo Hill - Wearable Fiber
Douglas Hockman - Photography
David Hohmann - Wood
Nathan Hoogs - Glass
Robert Alan Hyde - Metal
I
Joyce Inderbitzin - Clay
J
Leslie Jacobsen - Clay
JD Gourmet – Specialty Food
Bronia Jenson - Non-Wearable Fiber
Catherine Joseph - Wearable Fiber
K
Leslie Kaplan - Jewelry
Celeste Kelly - Mixed Media
Ron King - Wearable Fiber
Janice Kissinger - Wearable Fiber
Oliver Kita Chocolates – Specialty Food
Diana Koziupa - Mixed Media
Allison Krzanowski - Wearable Fiber
L
Thomas Laraia - Jewelry
Ron Lee - Wood
Wendy Lin - Jewelry
Allen Littlefield - Clay
Pat Littlefield - Mixed Media
Iona Loyola - Wearable Fiber
M
John Maiorino - Painting, Drawing, Printmaking
Andre Maiwald - Wood
Linda May - Jewelry
Sarah McCarthy - Clay
Daphne McDonald - Jewelry
Robin McLaughlin - Jewelry
David Melnick - Jewelry
Merriweather's – Soaps & Lotions
Danielle Merzatta - Jewelry
Fran Michaels - Leather
Jolanta Michalska - Wearable Fiber
Lisa Micheels - Wearable Fiber
Olga Mihaylova - Jewelry
Michael Mikula - Glass
Debra Miller-D'Errico - Wearable Fiber
Alexandra Molner - Leather
Boyan Moskov - Clay
Mostly Myrtle's – Specialty Food
Jeannette Mullarkey - Jewelry
Maria Munoz - Jewelry
Patricia Murray - Photography
N
Maija Neimanis - Jewelry
Terry Nelson - Clay
Wendy Nield - Non-Wearable Fiber
Nine Dragons Photography - Photography
Rebecca Noble-Morales - Wearable Fiber
Lauren Nogrady - Jewelry
O
Deborah O'Keeffe - Mixed Media
Kate O'Rourke - Wearable Fiber
Laurie Olefson - Mixed Media
P
Nancy Osborne - Leather
Marie Pace - Wearable Fiber
Lauren Passenti - Jewelry
William Peirce - Wood
Bruce Perlmutter - Wood
Susan Pillay - Wearable Fiber
Platte Clove Naturals – Specialty Food
James Polisky - Painting, Drawing, Printmaking
Potters' Guild of New Jersey - Clay
R
Lesley Reich - Clay
Alan Resnick - Wearable Fiber
Agustin Ruiz - Wearable Fiber
Alisa Ryan - Non-Wearable Fiber
S
Sue Sachs - Jewelry
Lisa Saether - Wearable Fiber
Sondra Sardis - Wearable Fiber
Kathleen Scranton - Mixed Media
Cara Shaw - Leather
Jonathan Simons - Wood
Cynthia Soboti - Wearable Fiber
Josh Solomon - Glass
Jim Somers - Photography
Kate Strong - Wearable Fiber
Sumptuous Syrups of Vermont – Specialty Food
Surprenant's Berry Farm – Specialty Food
Steven Swank - Wood
Elizabeth Swanson - Wearable Fiber
Peter Syak - Clay
T
Mary Thompson - Clay
Mary Thomson - Jewelry
Toshiki & Maryszka - Leather
U
Susan Ullman - Mixed Media
Michael Updike - Mixed Media
V
Ashley Vick - Jewelry
Warren Vienneau - Wood
W
Sasha Walsh - Jewelry
Heather Wang - Jewelry
John Warren - Wood
Marilyn Webster - Non-Wearable Fiber
Susan Wechsler - Clay
Kathleen Weir-West - Wearable Fiber
Steve White - Glass
Bill Wickey - Clay
Laura Wilder - Painting, Drawing, Printmaking
Y
Verne Jidong Yan - Non-Wearable Fiber
Colin Young - Photography
Rina Young - Jewelry
Tricia Young - Jewelry
Z
Zaliah Zalkind - Mixed Media
Stephen Zeh - Jewelry
Rebecca Zhukov - Glass