Spring CraftMorristown - March 11, 12, 13, 2016
Spring CraftMorristown is celebrating its 26th year at the Morristown Armory as New Jersey's most unique art and shopping experience. This semiannual show brings winter-weary design lovers an opportunity to get "first dibs" on the year's newest creations from 150 top American makers.
Saturday Note: St. Patrick's Day Parade. Use Harter Road Exit #33 on I-287 or please follow detours.
Schedule
Friday, March 11 from 4 pm to 8 pm
Saturday, March 12 from 10 am to 6 pm
Sunday, March 13 from 11 am to 5 pm
Admission Fees

cash or check only
Admission is $9
Seniors (62 and up) $8
Children are free
Address
430 Western Avenue
Morristown, NJ 07960
Free Parking/

No Pets
Make Your Own Shibumi Scarf
Patrica Disantis will be offering visitors the opportunity to get hands on and create their very own hand-painted silk scarf!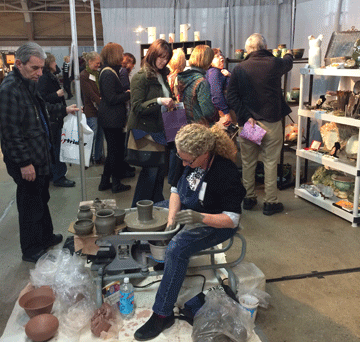 Potters' Guild of New Jersey Demo
Several artists from the Potters' Guild of New Jersey will be joining Spring CraftMorristown this year to display their work and demonstrate how it's made!
Custom Turned Wooden Pen Demo
Don Hart will be demoing his wood turning abilities and making pens all weekend long.
Exhibitor List by Category
CLAY
Christabal Aidala
Susana Barbetti-Norton
Eric Bradford
Michael Chatterley
Peggy Davo
John Gamble
Paul Greene
Leslie Jacobsen
Kim Lheureux
Allen Littlefield
Terry Nelson
Roz Potz-Weinberger
Angela Shope
Chris Sirko
Susan Wechsler
Margaret Wozniak
GLASS
Liza Abelson
Mary Angus
Karen Caldwell
Justin Cavagnaro
Dylan Engler
Amalia Flaisher
Diana Koziupa
Josh Solomon
Steve White
JEWELRY
Debra Abrams
Michael Alexander
Jodie Aragona
Jane Berling
Michele Berman
Lauren Blais
Daniela Boari
Marcel A. Breault
Shauna Blythe Burke
Susan Carey
Adel Chefridi
Emilie Cohen
Jaclyn Davidson
Elissa Ehlin
Raul Frisneda
Andrea Garr
Hilary Greif
Susana Guerrero
Hilary Hertzler
Hanan Ingel
Jacqueline Johnson
Leslie Kaplan
Thomas Laraia
Wendy Lin
Linda May
Robin McLaughlin
David Melnick
Olga Mihaylova
Jeannette Mullarkey
Lauren Passenti
Kara Raymond
Sue Sachs
Mary Thomson
Victoria Varga
Ashley Vick
Sasha Walsh
Rina Young
Tricia Young
Nina Zotcavage
LEATHER
Paula Gaynor
Paula Krueger
Valerie Legore
Valerie Legore
Fran Michaels
Alexandra Molner
Soumana Saley
Janice Stewart-Hibbard
Toshiki & Maryszka
METAL
Elissa Ehlin
Jann Forster
George Gabriel
Alan Holcombe
James Leritz
Devin Mack
Martin Moon
Kest Schwartzman
MIXED MEDIA
Barbara Berkowitz
Laura Bundesen
Doug Crane
Sandra Forrest
Marcia Guthrie
Pat Littlefield
Lynne Manning
Laurie Olefson
John Pattenden
John Peralta
Kathleen Scranton
Zali Kahlil Zalkind
NON-WEARABLE FIBER
Wendy Nield
Laura Rizzardini
Alisa Ryan
PAINTING, DRAWING, PRINTMAKING
Joe Engel
Crista Forrest
Karla Gudeon
Smadar Livne
Rahmon Olugunna
James Polisky
Timothy Shanley
Laura Wilder
PHOTOGRAPHY
Deborah Bohren
Jim Dratfield
Charles Fritsch
Doug Hockman
Bill Snyder
Jim Somers
Cynthia Walpole
WEARABLE FIBER
Tany Alsberg
Jennifer Armstrong
Caitlin Carvalho
Abbie Chamber
Marianne Connors
Maura Cronin
Patricia Disantis
Jenn Ecker
Cecilia Frittelli
Anastassia Gonye
R. Nemo Hill
Leni Hoch
Marlene Housner
Walter Iwanciw
Selma Karaca
Richard Lockwood
Jolanta Michalska
Lisa Micheels
Debra Miller
Rebecca Noble-Morales
Lora Oracheva
Enid O'Rourke
Julio Perea
Susan Pillay
Dahlia Popovits
Adriana Rangel
Alan Resnick
Sondra Sardis
John Schlotter
Cynthia Soboti
Natalie Wilkinson
WOOD
John Baun
Richard Carson
John Duryea
Don Hart
Houston Hill
Sean Lambkin
Tyler Lucas
Andre Maiwald
Ryan Miller
Warren Vienneau
SPECIALTIES
Bella's Home-Baked Goods
Bittersweet Herb Farm
Dutch Desserts, Inc
ImmuneSchein
JD Gourmet
Oliver Kita Chocolates
Merriweather's
Mostly Myrtle's/ Nanny's Cookies
Sumptuous Syrups of Vermont
Surprenant's Berry Farm
The Nut Lady
Whipped Up/Unbakeables
Alphabetical List of Exhibitors
A
Liza Abelson - Glass
Debra Abrams - Jewelry
Christabal Aidala - Clay
Michael Alexander – Jewelry
Tanya Alsberg - Wearable Fiber
Mary Angus - Glass
Jodie Aragona - Jewelry
Jennifer Armstrong - Wearable Fiber
B
Susana Barbetti-Norton - Clay
John Baun – Wood
Bella's Home-Baked Goods – Specialty Food
Barbara Berkowitz - Mixed Media
Jane Berling - Jewelry
Michele Berman – Jewelry
Bittersweet Herb Farm – Specialty Food
Lauren Blais - Jewelry
Daniela Boari - Jewelry
Deborah Bohren - Photography
Eric Bradford - Clay
Marcel A. Breault - Jewelry
Laura Bundesen - Mixed Media
Shauna Blythe Burke - Jewelry
C
Karen Caldwell - Glass
Susan Carey - Jewelry
Richard Carson - Wood
Caitlin Carvalho - Wearable Fiber
Justin Cavagnaro – Glass
Abbie Chambers - Wearable Fiber
Michael Chatterley - Clay
Adel Chefridi - Jewelry
Emilie Cohen - Jewelry
Marianne Connors - Wearable Fiber
Doug Crane - Mixed Media
Maura Cronin - Wearable Fiber
D
Jaclyn Davidson - Jewelry
Peggy Davo - Clay
Patricia Disantis - Wearable Fiber
Jim Dratfield - Photography
John Duryea – Wood
Dutch Desserts – Specialty Food
E
Jenn Ecker - Wearable Fiber
Elissa Ehlin - Jewelry
Joe Engel - Painting
Dylan Engler - Glass
F
Amalia Flaisher - Glass
Crista Forrest - Painting
Sandra Forrest - Mixed Media
Jann Forster - Metal
Raul Frisneda - Jewelry
Charles Fritsch - Photography
Cecilia Frittelli - Wearable Fiber
G
George Gabriel - Metal
John Gamble – Clay
Andrea Garr - Jewelry
Paula Gaynor – Leather
Anastassia Gonye - Wearable Fiber
Paul Greene - Clay
Hilary Greif - Jewelry
Karla Gudeon - Painting, Printmaking
Susana Guerrero - Jewelry
Marcia Guthrie - Mixed Media
H
Don Hart - Wood
Hilary Hertzler - Jewelry
Houston Hill - Wood
R. Nemo Hill - Wearable Fiber
Leni Hoch - Wearable Fiber
Doug Hockman - Photography
Alan Holcombe - Metal
Marlene Housner - Wearable Fiber
I
ImmuneSchein – Specialty Food
Hanan Ingel - Jewelry
Walter Iwanciw - Wearable Fiber
J
JD Gourmet – Specialty Food
Leslie Jacobsen - Clay
Jacqueline Johnson - Jewelry
K
Leslie Kaplan - Jewelry
Selma Karaca - Wearable Fiber
Oliver Kita Chocolates – Specialty Food
Diana Koziupa – Glass
Paul Krueger - Leather
L
Sean Lambkin - Wood
Thomas Laraia - Jewelry
Valerie Legore – Leather
James Leritz - Metal
Kim Lheureux - Clay
Wendy Lin - Jewelry
Allen Littlefield - Clay
Pat Littlefield - Mixed Media
Smadar Livne – Painting
Richard Lockwood - Wearable Fiber
Tyler Lucas - Wood
M
Devin Mack - Metal
Andre Maiwald - Wood
Lynne Manning - Mixed Media
Linda May - Jewelry
Robin McLaughlin - Jewelry
David Melnick – Jewelry
Merriweather's – Soups & Lotions
Fran Michaels - Leather
Jolanta Michalska - Wearable Fiber
Lisa Micheels - Wearable Fiber
Olga Mihaylova - Jewelry
Ryan Miller - Wood
Debra Miller-D'Errico - Wearable Fiber
Alexandra Molner - Leather
Martin Moon – Metal
Mostly Myrtle's/Nanny's Cookies – Specialty Food
Jeannette Mullarkey – Jewelry
N
Terry Nelson - Clay
Wendy Nield - Non-Wearable Fiber
Rebecca Noble-Morales - Wearable Fiber
O
Enid O'Rourke - Wearable Fiber
Laurie Olefson - Mixed Media
Rahmon Olugunna - Painting
Lora Oracheva - Wearable Fiber
P
Lauren Passenti - Jewelry
John Pattenden - Mixed Media
John Peralta - Mixed Media
Julio Perea - Wearable Fiber
Susan Pillay - Wearable Fiber
James Polisky - Drawing, Printmaking
Dahlia Popovits - Wearable Fiber
Potters' Guild of NJ - Clay
Roz Potz-Weinberger - Clay
R
Adriana Rangel - Wearable Fiber
Kara Raymond - Jewelry
Alan Resnick - Wearable Fiber
Laura Rizzardini - Non-Wearable Fiber
Alisa Ryan - Non-Wearable Fiber
S
Sue Sachs - Jewelry
Soumana Saley - Leather
Sondra Sardis - Wearable Fiber
John Schlotter - Wearable Fiber
Kest Schwartzman - Metal
Kathleen Scranton - Mixed Media
Timothy Shanley - Painting
Angela Shope – Clay
Chris Sirko - Clay
Bill Snyder - Photography
Cynthia Soboti - Wearable Fiber
Josh Solomon - Glass
Jim Somers - Photography
Janice Stewart-Hibbard – Leather
Sumptuous Syrups of Vermont – Specialty Food
Surprenant's Berry Farm – Specialty Food
T
The Nut Lady – Specialty Food
Mary Thomson – Jewelry
Toshiki & Maryszka - Leather
V
Victoria Varga - Jewelry
Ashley Vick - Jewelry
Warren Vienneau - Wood
W
Cynthia Walpole - Photography
Sasha Walsh - Jewelry
Susan Wechsler - Clay
Whipped Up/Unbakeables - Specialty Food
Steve White - Glass
Laura Wilder - Printmaking
Natalie Wilkinson - Wearable Fiber
Margaret Wozniak - Clay
Y
Rina Young - Jewelry
Tricia Young - Jewelry
Z
Zali Kahlil Zalkind - Mixed Media
Nina Zotkavage - Jewelry